What is the Best Type of GPS Tracker?
The world of tracking is a weird and wonderful place. From an outsiders perspective, you might see a bunch of similar devices that track things.

But that's not entirely true.

When it comes to the tracking industry there's price gouging, ruthless competition and a difference between GPS, Satellite, Bluetooth and OBD Tracking.

Unless you're familiar with these terms and what they mean, you're prone to get ripped off.

I'm here to unveil the mystery behind the tracking industry and give you the knowledge to become a better tracking expert. 

Or in a more realistic scenario, give you the basic tools to get you the best deal possible when it comes to tracking devices.

And impress all the people you know at parties with your extensive knowledge of tracking.

I promise it's not as boring as it sounds and, as with all my articles, it's a quick skim read if you don't have much time.

If you're really short on time, skip to the end for a table simplifying all this information.
Bluetooth Tracking: The Pros & Cons
Bluetooth Trackers are nifty things, sold by companies like Tile, they work based on the Bluetooth network.

Which is limited to short-distance communication.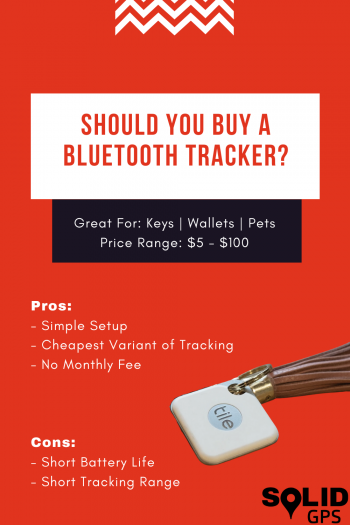 – Small Items (Keys, Wallets)
– Pets
– Simple Setup
– Cheapest Variant of Tracking
– Tiny in Size
– Short Battery Life (<1 Week)
– Short Operating Range (<100 Metres)
OBD Tracking: The Pros & Cons
OBD trackers are a variant of a GPS tracker, instead of wiring directly to your vehicle's battery, it connects to your vehicle's OBD port.

This allows you to receive in-depth telematics from your vehicle like:
– Fuel Consumption
– Mileage
– Engine Temperature
– Fuel Levels
– Driving Behaviour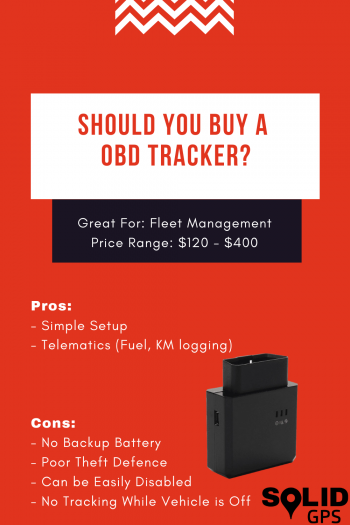 – Simple Setup
– Telematics
– No Backup Battery
– Poor Theft Defence
– Can be Tampered
– No Tracking While Vehicle is Off

Satellite Tracking: The Pros & Cons
Satellite trackers are a variation on GPS trackers.

Instead of using the cellular network to transmit location data, these trackers use satellites to transmit location data. 

In English, that means that satellite trackers can be used anywhere in the world. Even in rural areas.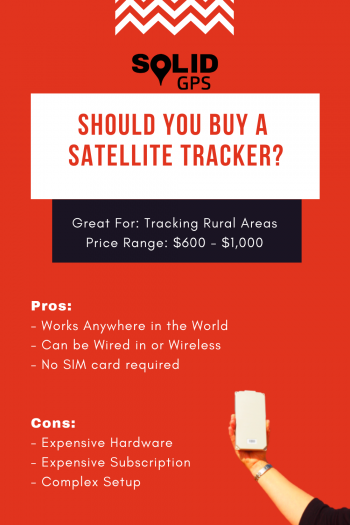 – Hiking
– Tracking Shipping Containers
– Rural Tracking
– Works Anywhere in the World (Only Above Ground)
– Wired or Wireless
– No SIM Card
– Expensive Hardware
– Expensive Subscription
– Complex Setup
Wired GPS Tracking: The Pros & Cons
Wired GPS trackers get their power from your vehicle's battery instead of using it's own by connecting to your vehicle's battery.

GPS trackers use the Global Positioning System to discover the exact location of your tracker. 

After the location is found it transmits that data, along with other information like speed, etc, through the cellular network.

This is why GPS trackers need a SIM card and charge a monthly fee, to transmit the data that the trackers receive.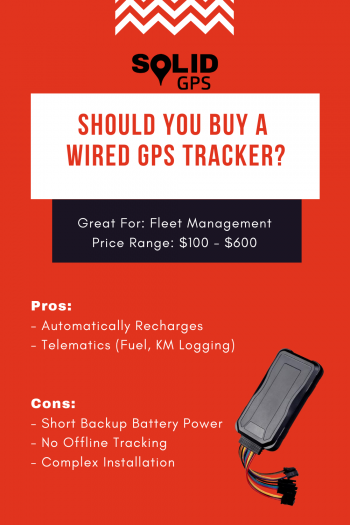 – Automatic Recharging
– Telematics (Fuel, KM logging)
– Wiring a tracker to your vehicle makes it obvious for thieves to find
– Short or No Backup Battery
– No Tracking While Vehicle is Offline
– Potential to Drain Battery
– Complicated Installation
Wireless GPS Tracking: The Pros & Cons
Full disclosure, we sell a wireless GPS tracker called Solid GPS.

That, in my opinion, is the best option out of all these tracking types and the best wireless GPS tracker. Click here to find out more.

Wireless GPS trackers get their power from their own internal battery and do not connect to any external power source.

Please note that most other wireless GPS trackers do not have these features.

I am only talking about Solid GPS in this section.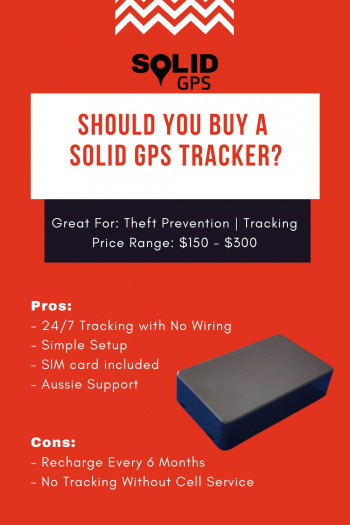 – Theft Prevention
– Tracking Medium Sized Objects
– Manually Recharge Solid GPS every 3 to 6 Months
– No Tracking Without Cell Service
People don't have much time these days and I understand that. Below is a simplified table of the information above.

(If you're on mobile, rotate your screen to make it larger)


But reading, or even skimming, the info above will help you gain a deeper understanding that'll help you not get ripped off by less than honest tracking companies.
Finally, if you are interested in an honest GPS tracker then look no further than Solid GPS.
Or sign up below to get your very own free vehicle security blueprint and see how you can protect your vehicle.

Sign Up Now And Get Your Free Vehicle Security Blueprint