New Zealand's Top 10 Most Stolen Vehicles in 2023
How many vehicles are stolen in New Zealand every year? Which make and model were most coveted by thieves?
As we analyse the data and delve into the world of vehicle theft, it becomes evident that certain cars, with their blend of style, value, and performance, attracted more attention from criminals than others.
In this article, we will unravel the curtain on the most stolen vehicles in New Zealand in 2022, shedding light on the specific makes and models that found themselves at the centre of this disconcerting trend. Let's explore what made these vehicles such hot commodities.
To help you stay informed and safeguard your prized possessions, we've compiled a list of the top 10 most stolen vehicles in New Zealand. Understanding which cars are most targeted by thieves can empower you to take proactive measures to protect your vehicle.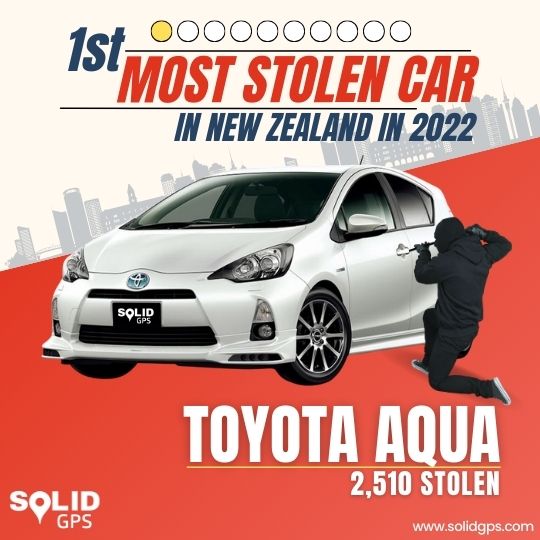 The Toyota Aqua, also known as the Prius C, topped the list as the most frequently stolen vehicle in New Zealand in 2022. It accounted for 11% of AMI's theft claims despite making up only 1.47% of the country's total car population. Its desirability among thieves can be attributed to its popularity on the roads and valuable hybrid components, making it a prime target. The Aqua's small size and inconspicuous appearance also make it relatively easy for criminals to blend in and evade detection.
The Mazda Demio found itself in the unenviable position of being the second most stolen vehicle in New Zealand. This popular compact car, appreciated for its affordability and efficiency, unexpectedly became a prime target for car thieves. The reasons behind its high theft rate might lie in its widespread presence on the nation's roads, making it less conspicuous during criminal activities. Moreover, its resale value for spare parts and its appeal among budget-conscious buyers may have contributed to its unfortunate ranking.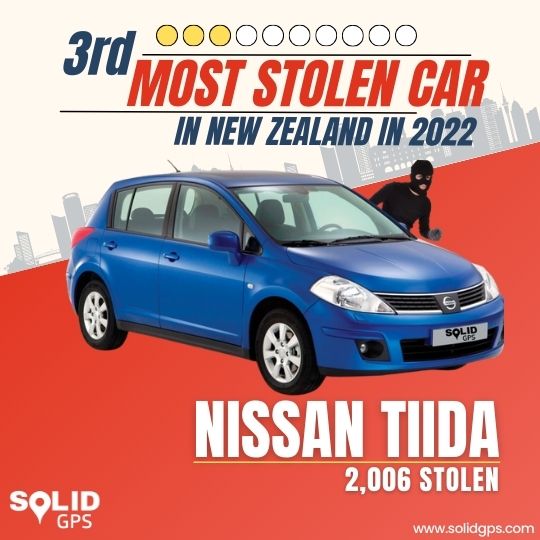 The Nissan Tiida emerged as the third most stolen car in New Zealand for the year 2022, capturing the dubious attention of car thieves. The Nissan Tiida, known for its practicality and reliability, became an unexpected target for theft, raising questions about the motives behind its popularity among criminals. Its widespread presence on Kiwi roads, coupled with its appealing blend of features, may have made it an attractive prospect for those seeking to steal vehicles.
The Mazda Atenza, also known as the Mazda 6, unexpectedly took the unenviable position of the fourth most stolen vehicle. The Mazda 6, renowned for its sleek design and balanced performance, found itself in the crosshairs of car thieves, leaving car owners bewildered. The reasons behind its elevated theft rate may be attributed to its valuable components and its appeal among a wide range of drivers. Its popularity among both families and enthusiasts alike could have contributed to its unfortunate ranking.
Despite discontinuation in 2019, the Toyota MarkX ranked fifth among stolen vehicles. Its accessibility in the used car market, reputation for luxury, and valuable parts, including high-end entertainment systems and interior features, made it appealing to criminals. Replacement parts for discontinued models can be scarce and expensive, further contributing to its ranking among stolen vehicles.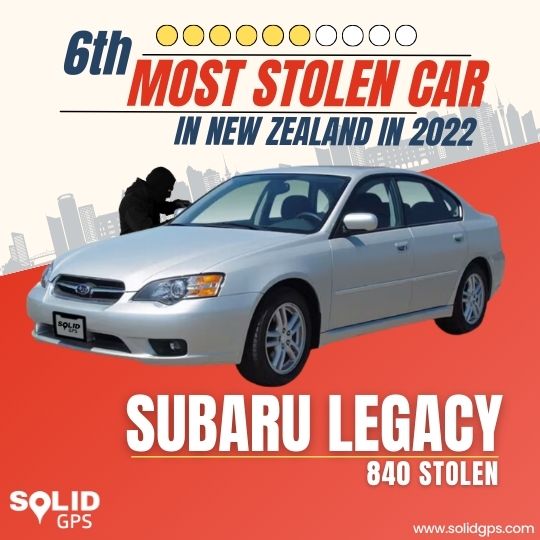 The Subaru Legacy, valued for its reliability and all-wheel-drive system, ranked seventh among stolen vehicles. Its appeal among drivers who prioritise safety and performance may have contributed to its desirability among thieves. Additionally, its valuable components, including advanced safety technology and powerful engines, may make it an attractive target for parts resale.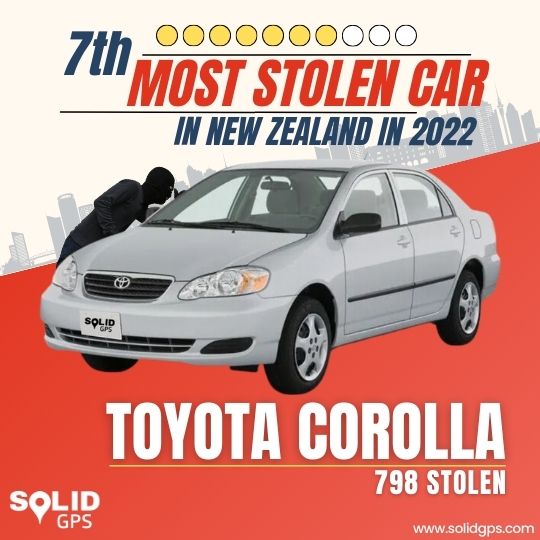 The Toyota Corolla, known for reliability and affordability, surprisingly ranked eighth among stolen cars in 2022. Its broad demographic appeal, from students to families and professionals, could have contributed to its appeal in criminal circles. Criminals may target Corollas for both resale value and the simplicity of their anti-theft features.
The Toyota Vitz, known as the Toyota Yaris in some markets, is a popular and versatile subcompact car that has earned a reputation for its reliability and efficiency. Launched in 1999, the Vitz has since become a mainstay in Toyota's lineup, appealing to a broad spectrum of drivers around the world. Surprisingly, the Toyota Vitz found itself in the unexpected position of being the fifth most stolen vehicle in New Zealand in 2022. The fact that the Vitz is a common sight on New Zealand's roads could have made it a less conspicuous target for criminals.
Since its introduction in 1992, the Subaru Impreza has left an enduring mark on the automotive landscape, thanks in part to its signature symmetrical all-wheel-drive system, which provides exceptional traction and stability making it well-suited for a wide range of driving conditions, including rain, snow, gravel, and even light off-roading. The Impreza's appeal to automotive enthusiasts due to its sporty look, AWD system, and potential resale value may further contribute to its desirability among car thieves.
The Mazda Familia, also known as the Mazda 323, closed the list as the tenth most stolen vehicle. Its vulnerability due to a lack of advanced anti-theft features made it a target for opportunistic thieves. Despite its age, it remains popular due to its affordability, reliability, and practicality, making it an attractive choice for those looking for a low-cost vehicle or spare parts.
While these rankings can change from year to year, understanding the most stolen vehicles in New Zealand can help individuals take precautionary measures to protect their vehicles. It's essential for car owners to invest in anti-theft devices, park in well-lit areas, and be vigilant about their vehicle's security. Additionally, law enforcement agencies and car manufacturers must continue to collaborate on improving vehicle security to keep the persistent issue of car theft in New Zealand under control.
By opting for a Solid GPS tracker, you secure precise location tracking and prolonged battery longevity, guaranteeing you a trustworthy and continuous tracking solution for a wide range of purposes.
Order Australia's Best Portable GPS Tracker Below
*Requires a
$6.99
P/M or
$69.99
P/A subscription.
31-day Free Tracking Before Subscription Begins.
Solid GPS is based in Melbourne, Victoria. All design, development and assembly is done in-house.