How to Recover Your Stolen Vehicle: A Step-by-Step Guide
Experiencing vehicle theft is a distressing and frustrating ordeal. However, it is important to stay calm and take immediate action to increase the chances of recovering your stolen vehicle.
In this article, we will outline a series of practical steps to take if your vehicle is stolen, helping you navigate the recovery process.
1) Call the Police Assistance Line
As soon as you have confirmed that your vehicle has been stolen, call the police assistance line or report it online.
However, if the value of the theft is over $5,000, you cannot use the online route.
Australia-wide phone number: 131 444
Hearing/Speech impaired: TTY 106
Online Reporting (Less than $5,000): Click here

The police assistance line is available 24/7 and all throughout Australia.
The reason it was created was to "greatly improve service delivery by enabling the public to directly connect with Police regarding non-urgent crimes, events, and general police enquiries from any location."
Write down the details of your incident so the information you present is consistent.
2) Contact Your Insurance Company
Once you call your insurance company, your premium payment for the next year will go up, along with your insurance excess can leave you hurting for cash now and later.
If you can recover your vehicle without any damage, consider waiting to contact your insurance company. This way, you won't be charged, but this is riskier.
3) The Most Important Step: Spread the Word!
Your local police station may receive hundreds, if not, thousands of enquiries a day.
A lot of the time, theft gets placed on the back-burner but if you know where your vehicle is, there's a higher incentive for police to recover it, but how do you find it? Using Facebook.
Use Facebook to post in stolen vehicle groups like these:
Stolen Motorcycles Australia
COMBAT – Community of Bikers Against Theft – Stolen Motorbikes Australia
Stolen Vehicles in Victoria, Australia
The Facebook Stolen Dirt Bike Page – Western Australia
3.5) Spreading the Word Works!
Here is just one instance where a motorcycle was recovered through Facebook.
4) Evaluate Your Security and Wait for the News
After your vehicle has been stolen and you have posted in the above groups, you will have some time to brush up on your security.
Here is the cheat sheet we use.
If you're on mobile, we recommend saving the image below.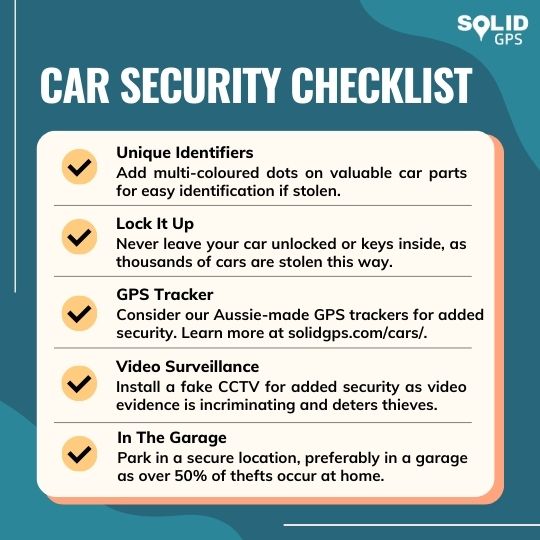 If you complete these four steps, the chance that you will recover your motorcycle, car or any vehicle in a suitable condition, doubles.
In this game, it's all about speed, the faster the recovery, the less potential damage there will be.
If you are worried about theft and don't want to go through the above steps, I implore you to get your own Solid GPS tracker.
Having a wireless Solid GPS tracker anywhere on your vehicle is something you wish to never have to use. But if worst comes to worst, you will be forever thankful for this tiny Aussie-made device.
Order Australia's Best Portable GPS Tracker Below
*Requires a
$6.99
P/M or
$69.99
P/A subscription.
31-day Free Tracking Before Subscription Begins.
Solid GPS is based in Melbourne, Victoria. All design, development and assembly is done in-house.