The Top 10 Most Stolen Motorcycles in 2023
The stats for motorcycle theft are unreleased for the year 2022 with the latest we have access to being from July 2020 to June 2021.
Motorcycle theft went down in 2021 compared to the stats reported in 2020, a 15% decrease.
However, much of Australia was in and out of lockdowns making the drop expected.
In saying that, motorcycle theft still saw a rise with approximately 7,701 motorbikes stolen.
So an excellent way to help curve motorcycle theft is knowing how at-risk the brand of your motorbike is.
Here are the top 10 most stolen motorcycle brands in Australia, according to "The National Motor Vehicle Theft Reduction Council".
The following stats are comparing 2019/20 with 2020/21. Here are the top motorcycle brands thieves are stealing.
1. Honda – 1,939 in 2019/20 VS 1,545 in 2020/21: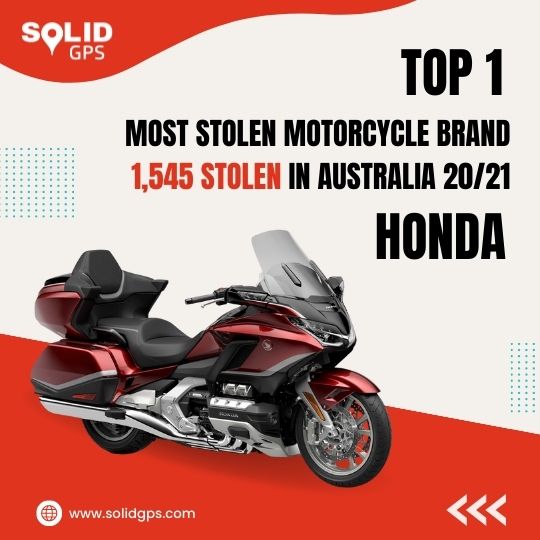 Since 2020, Honda has produced over 400 million motorcycles, and one of the most popular in their catalogue of motorcycles is the Gold Wing. This model is one of the only motorcycles in the world that comes with an airbag.
Winding back time to 1949 when Honda released their first motorcycle, which is a 49cc two-stroke motor named the Dream type D.
Not much has changed since then, as Honda continues to produce quality motorcycles time and time again—making them a favourite among thieves.
Question: Why is Honda the most stolen motorcycle brand?
Because of the sheer amount of Honda motorcycles available on the market. Being one of the most popular motorbike brands in the world means more Honda's are stolen more than the average. 
The subsequent reason being there's a greater demand for Honda spare parts, due to the large amount of Honda motorcycles existing in the world.
2. Yamaha – 1,572 in 2019/20 VS 1,326 in 2020/21:

Yamaha is one of the oldest motorcycle companies in the world, created in 1887.
However, when they first started out, they produced various products, including pianos and organs, not just motorcycles. Eventually, Yamaha split off their motorcycle division into Yamaha Motor Company.
Funnily enough, Yamaha still makes musical instruments such as guitars, pianos and drums. Up to this day, the brand is still a well-known instrumental industry leader.
3. Suzuki – 815 in 2019/20 VS 742 in 2020/21:
Suzuki's GSX-R series of motorcycles reached a total of 1 million units produced in 2012.
When the Suzuki Hayabusa was launched it could reach a top speed of 312 km/h. Unfortunately, Suzuki was forced to install a limiter so the bike couldn't push past 300km/h.
Speaking of going fast, winning the Isle of Man race is considered by most to be the pinnacle of motorcycle achievement. Suzuki is one of the most successful participants at the Isle with a total of 93 victories.
4. Kawasaki – 880 in 2019/20 VS 644 in 2020/21:
Kawasaki motorcycles are built tough. With parts being able to withstand cracking and breaking whenever the bike is dropped or crashed. Which is more than you can say about most other motorcycle brands.
Contrasting this ruggedness, you would assume that Kawasaki makes heavier motorcycles, but the plastics they manufacture are also lightweight. Creating the best of both worlds through a lightweight but drop-resistant motorbike.
5. KTM – 599 in 2019/20 VS 596 in 2020/21: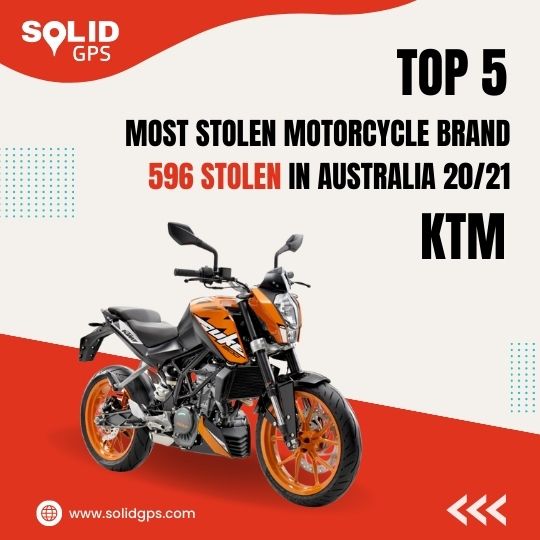 KTM was founded in the 1930s but they didn't start out as a motorcycle manufacturer, instead cutting their teeth as a locksmith & metalworking shop.
About 20 years later in 1953, they designed their first motorcycle and a year later their first motorcycle won a championship title.
Pretty impressive for creating your first motorcycle only a year prior.
6. SYM – 338 in 2019/20 VS 325 in 2020/21:

SYM is headquartered in Taiwan and produces around 600,000 motorcycles a year.
They are lesser known compared to their Japanese counterparts, Honda but SYM was founded around the same time in 1954 as Honda's motorcycle division.
Now would also be a good time to inform you that, surprisingly, scooters are included in this list.
7. Kymco – 257 in 2019/20 VS 227 in 2020/21:

Kymco, like SYM, is another Taiwanese company that manufactures both motorcycles and scooters.
The company was founded after parting ways with Honda in 1963. And in the present day, Kymco is now known as the largest scooter manufacturer in Taiwan and the fifth largest in the world.
8. Piaggio – 221 in 2019/20 VS 178 in 2020/21:

The Piaggio brand is not as well known as their signature scooter, the Vespa.
The company started off as a timberyard and has transitioned into building locomotives and railway carriages. And towards the end of World War I, its owner, Piaggio, turned his eyes to the military sector.
Piaggio manufactured various planes and anti-submarine boats until their factory was bombed and destroyed in the 1940s by the allied powers. 
After the bombing, the company diversified into scooters and other commercial ventures leading to the birth of what we now know as Vespa.
9. Husqvarna – 146 in 2019/20 VS 166 in 2020/21: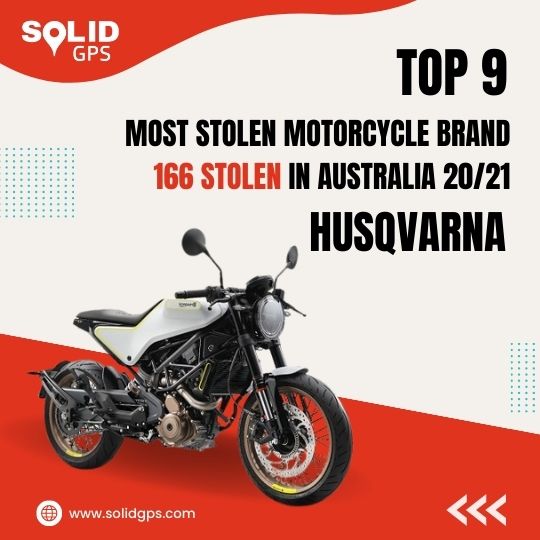 Husqvarna Motorcycles is one of the oldest motorcycle manufacturers in the world and has blossomed into one of the most revered European motorcycle brands in modern times.
The company began as a metal-working corporation in 1689 to produce muskets for the Swedish Army. 
Husqvarna built street motorcycles and entered prestigious road race events such as the Isle of Man Tourist Trophy.
Today, Husqvarna Motorcycles is a brand that draws inspiration from a golden age of motorcycling culture, renowned for many ground-breaking achievements and unique revolutionary steps that have changed motorcycling forever.
10. Longjia – 130 in 2019/20 VS 155 in 2020/21:
Longjia Motorcycle was founded in 1998 as a professional motorcycle and scooter manufacturing company located in Zhejiang Province, China.
In 2004, in order to meet the needs of the international market, Longjia began developing motorcycle products for the international market and has begun selling in Australia, Egypt, the Middle East, South Africa and Colombia and other countries.
These motorcycle brands aren't just popular with consumers but also with thieves.
Order Australia's Best Portable GPS Tracker Below
*Requires a
$6.99
P/M or
$69.99
P/A subscription.
Begins after a 31-day trial. Cancel anytime.
Solid GPS is based in Melbourne, Victoria. All design, development and assembly is done in-house.